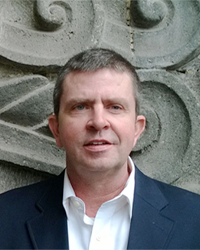 Russell Hayes, M.B.A., has over 35 years of experience in business management, finance, administration and human resources.
In addition to leading the Management Assistance Program for the United Way of Houston and founding his own management consulting firm in Southern California, Russell served as the West Coast management consultant in finance and technology for the Neighborhoood Reinvestment Corporation, and as the Vice President and CFO of Los Angeles NHS and Affiliates. He has also been an adjunct professor of administration and finance at universities in Houston, San Diego and Los Angeles.
Russell specializes in strategic planning with an emphasis on emerging and small businesses. His expertise also includes developing emergency management and financial plans for companies in transition.
He has an in-depth knowlege of Latin America, lived briefly in London and has traveled to China, Japan, and countries in Europe. Russell is bilingual, and his international experiences have enriched his ability to view challenges and opportunities with a unique perspective.