Bookkeeping, Payroll, and Operational Support
Bookkeeping Services for Businesses and Organizations
Shift the Burden of Bookkeeping from Your Shoulders to Ours
Allow us to handle this critical but time-consuming function off-site. You can simply upload your financial information through our secure client portal found on our website or share your documents via Dropbox and let us handle your daily accounting needs. You will have a quick and accurate picture of all your business activity anytime, anywhere. We take the guess work out of your financial status.
Rely on our staff at HZ CPAs & Advisors for bill paying, invoice generating and sending to customers, sales deposits, bank statements and credit card reconciliation, payroll processing and payroll tax filing, financial statements, and individual and business tax planning and preparation.
Outsourced bookkeeping makes smart financial sense. Reduce your overhead costs by eliminating a specialized employee dedicated to overseeing the books. With your trusted advisors on the job, there is never a worry about the reliability of the data. Your stress is eliminated.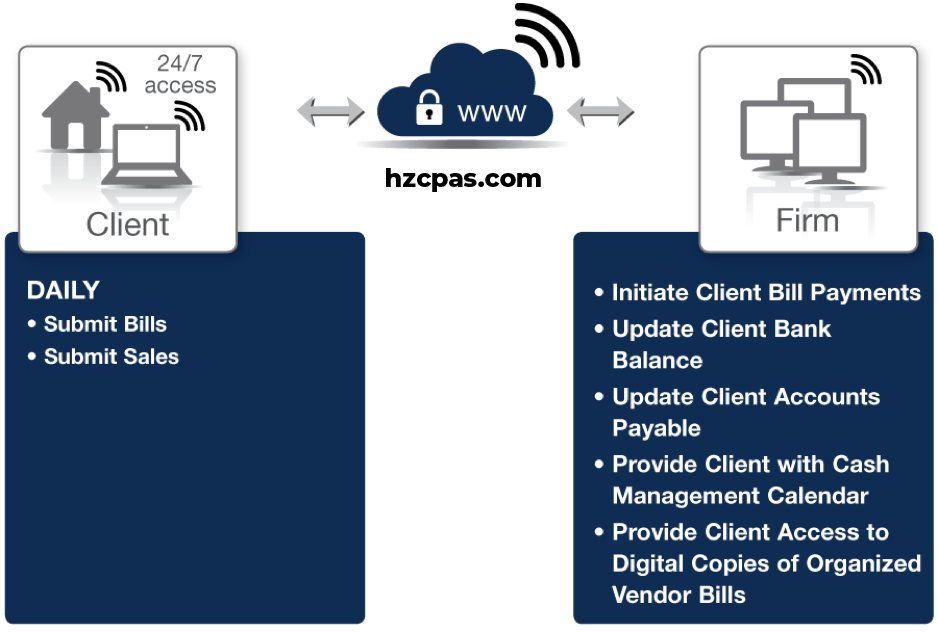 Payroll Services for Businesses and Organizations
Cost Effective, Timesaving, and Proves to Be Worry-Free
Change the way you handle payroll, so you can get back to doing what you enjoy best running your business. Outsourcing this function to HZ CPAs & Advisors is cost effective, a time saver, and proves to be worry-free. If we're handling all your payroll responsibilities, there's no need for a specialized employee dedicated to this task and no maintaining your own payroll system. Payroll laws are constantly in flux—staying compliant can be a challenge. With our team of professional CPAs on the job, you can leave those worries to us. We will assign a dedicated payroll expert to work with you throughout the payroll process to ensure continuity, thus reducing errors.
As technology leaders, HZ CPAs & Advisors offers this service electronically, saving you time, money and reducing costly mistakes. Simply fax, email or upload your payroll information via a secure portal and our experts will process the data and deliver all services over the internet. As your payroll partner, we will address all your needs, including direct deposit, W-2 processing, filing up-to-date quarterly and annual payroll taxes and reporting. Your employees will enjoy secure online access to their pay check stub information and W-2s—saving you hours in distribution time.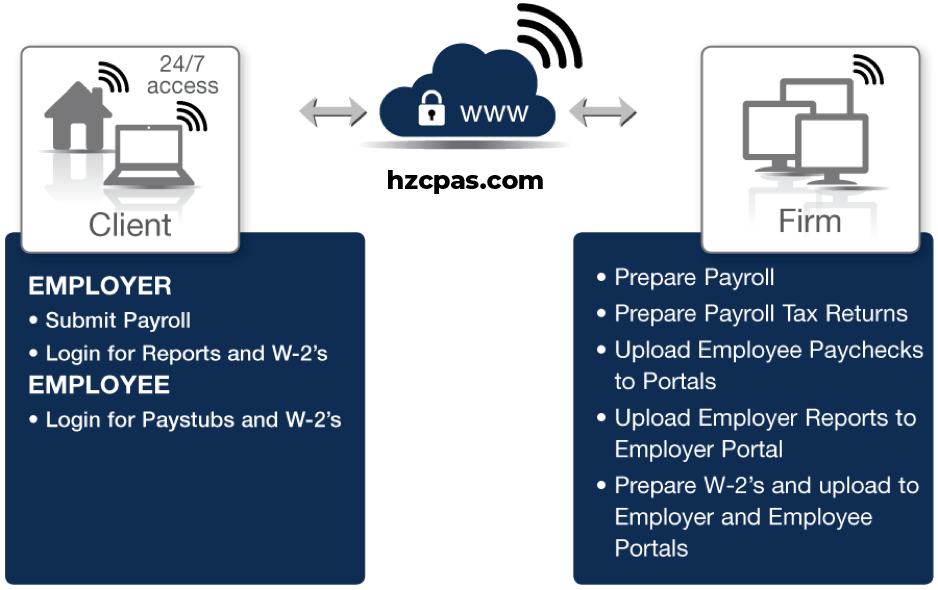 Accounting Solutions for Businesses and Organizations
You Approve Bills —Let HZ CPAs & Advisors Take Care of the Rest
Go to our secure website to approve your bills and we'll take it from there. Our accounting specialists will handle payroll processing, reconcile bank statements and credit card reports, as well as issue financial statements, prepare tax returns and assist with tax planning—all services performed in real-time. We know the demands of your busy lifestyle, so offering 24/7 online access to your financial data just makes sense. Log on and securely download the information needed anytime, anywhere. Now that's convenience!
Whether you require monthly or annual accounting support, our team of Certified Public Accountants will work with you to ensure your financial needs are being addressed and your goals are achieved. Always leveraging our advanced technology platform to move best practices forward, we offer timely and accurate financial reporting and advice, accounting software training and support, critical analysis of your operational systems and more.
With all the information updated in real time, we can work with you for strategic insight that is based on reality, and good sense of opportunities and risks.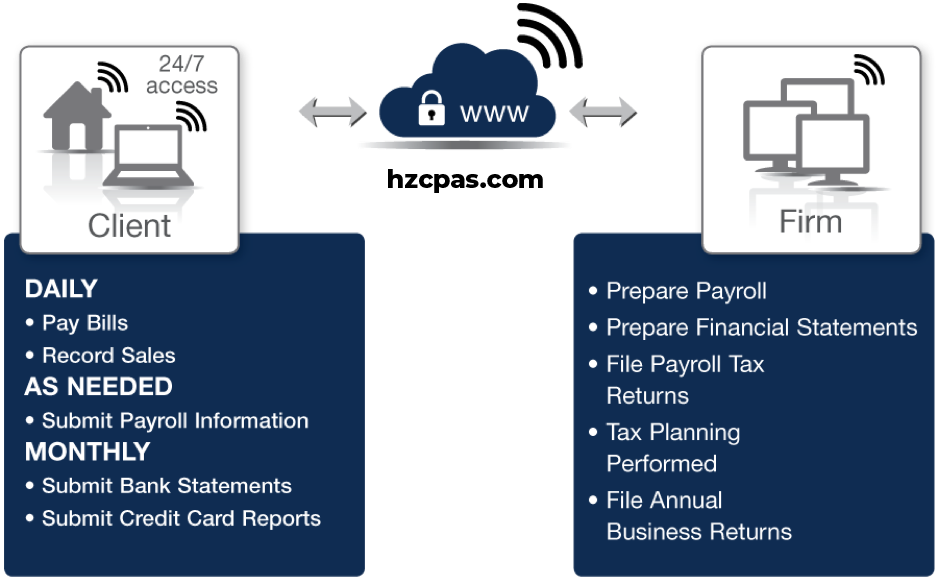 Over 60 Companies are already experiencing Peace of Mind, Power, and Freedom
Try It Yourself: Book a Free 30 minute Strategic Discovery Session via Zoom Video Meeting.